Key Ingredients
Avocado Oil:
We all love avocado toast, but did you know the essential fatty acids and vitamins A, C, and E found in the fruit are also great for your skin? These are natural moisturizers that soften, protect, and soothe the skin.
Helianthus Annuus Oil:
Rich in emollient essential fatty acids, this oil softens the skin and helps to maintain its elasticity. As a source of phospholipids, it regenerates the cutaneous hydration barrier and reduces cracking and roughness caused by drying and the dehydration of the skin.
Camellia Leaf Extract:
This extract is perfect for delicate skin. It is naturally rich in antioxidants, such as polyphenols and caffeine, to protect the skin against environmental aggressions, prevent the signs of aging, and improve the texture of your skin.
Additional Ingredients: Yarrow and Calendula Macerate, Coconut Oil, Olea Europaea Oil, and Vitamin E.
All ingredients come from Organic Farming sources. This Reveal Oil is currently being approved by Ecocert Greenlife for COSMOS ORGANIC certification.
Instructions for Exceptional Results
Morning Instructions:
Apply evenly to your face and neck after cleansing your skin. Reveal Oil acts as a moisturizing barrier for the skin during the day, protecting it from environmental factors like pollutants, dirt, and UV rays.

Night Instructions:
Apply evenly to your face and neck after cleansing your skin. When you use Reveal Oil at night, it will work as a restorative oil to reduce redness, calm the skin, and provide your skin cells with much-needed nutrients to become stronger and healthier.
---
Lisa's Pro Tips & Tricks:
Longevity is key! Reveal Oil helps your skin's barrier become more robust with each application. For youthful, vibrant skin, apply as follows:
Clean your skin with the Soft Dual Action Cleansing Gel.
Exfoliate with the Soft Dual Action Exfoliant / Mask.
Spritz your clean face with the Essence Balancing pH Toner.
Massage Reveal Oil on your face and neck until it is absorbed.
Lightly massage Reveal Day/Night Emulsion until it is fully absorbed.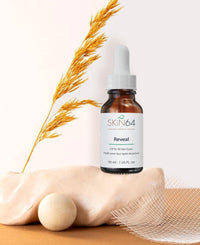 Organic Reveal Oil
$89.00