Key Ingredients
Kolin:
This natural white clay soothes the skin to relieve redness and even skin tone. It also helps tighten pores, giving your skin a smoother feel.
Lavender Flower Essential Oil:
Lavender flower essential oil has purifying and soothing properties that can help reduce redness and itching and make the skin visibly cooler and revitalized.
Bisabolol:
This skin-soothing oil. derived from chamomile, has anti-inflammatory properties, disinfectant capabilities, moisturizing effects, a natural chamomile scent, and the ability to prevent collagen breakdown.
Additional Ingredients: Water (Aqua), Stearic Acid, Glyceryl Stearate, Tocopherol, Phenoxyethanol, Dehydroacetic Acid.
Instructions for Exceptional Results
To get the most out of the Renew Gentle Exfoliant & Mask, apply a thin layer to your face, neck, eyelids, and lips. Gently work in small circles for a minute or so before letting it set on the face for about 10-15 minutes.
Once dry, rinse it off with warm water and gently dry. Follow with a spritz of Renew AHA Toner and your favorite serum, moisturizer, or face oil.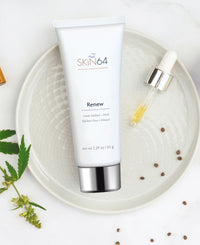 Renew Gentle Exfoliant & Mask
$53.00